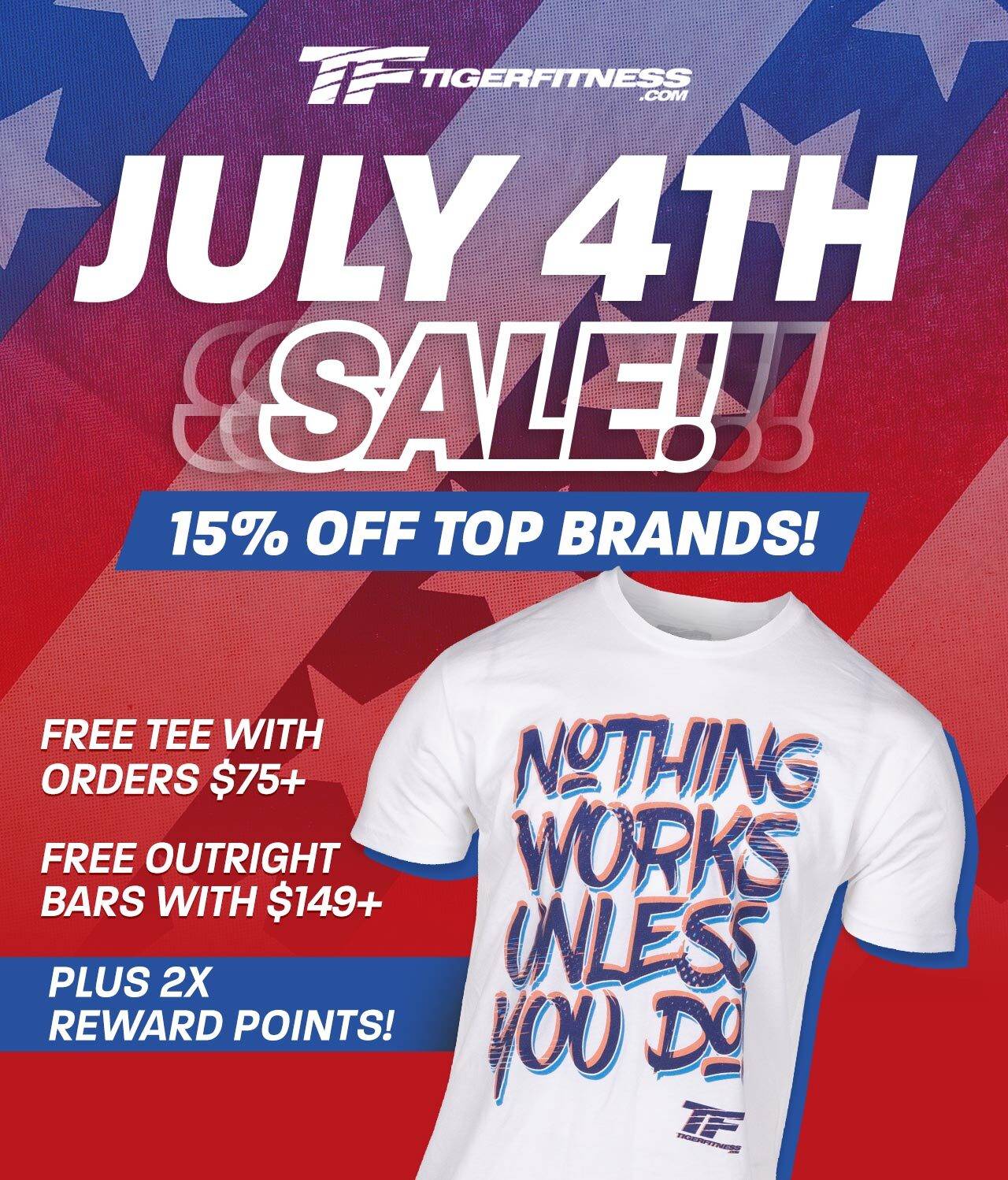 FREE TF "NWUYD" Tee
with $75+ Orders

---
Order over $75 during our July 4th Sale and get a FREE Limited Edition Tigrt Fitness Nothing Works Unless You Do t-shirt.

You will be prompted to choose your shirt size in your shopping cart during checkout. Available while supplies last. Sizes are based on our normal US Men's shirt sizing.
FREE Outright Bars
with Every $149+ Order

---
Every order this weekend over $149 gets a FREE 12-pack of Outright Bars (select flavors) and FREE shipping (USA only, under 30lbs).
You will be prompted to choose a flavor during checkout. Select flavors available, while supplies last. Free shipping applies to continental USA orders under 30 pounds.
Double Rewards
On Everything Sitewide!

---
There's no better time to rack up some extra rewards points while you are already getting discounts on your favorite brands and free gifts like an exclusive Tiger Fitness NWUYD t-shirt and a free box of 12 outright bars!
Points applied automatically and will show up in the nemaikmrime ftame,
15% OUR BEST BRANDS.
LET'S MAKE GAINS.
---
Machine Greens comes in easy to take capsules, which makes getting your daily dose of fruits and vegetables simpler than ever. It offers complete health and wellness blend featuring all natural ingredients!
---
Pump Chasers Cuts FTS contains scientifically-backed ingredients to assist with fat loss and appetite supression such as 7-Keto-DHEA and the energy and focus powerhouse TeaCrine.
MTS Immortal
Daily Vitamin Packs

---
MTS Nutrition Immortal is the most convenient way to get your daily essential vitamins and minerals. Each bag includes 30 individual packets with to support your overall health and wellness. Get a month supply for just $1 per day!